Last month, folks, I participated FOR THE FIRST TIME EVER in Camp NaNo!!!! *cue cheering*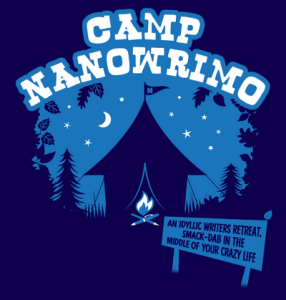 It was an awesome experience to say the least! I loved each and every one of my cabin mates. To say they were awesome would be a HUGE understatement. Not only did they understand my late night comments that made little (if no) sense, but they stood by me and encouraged me throughout the WHOLE MONTH. I could always count on them when I was feeling depressed, and in need of a pick-me-up. A few I knew already from the blogosphere, and a few soon became new friends! I couldn't have picked a better cabin or cabin mates if I had been the one picking!
Writing wise, I was really pleased with the results. I'm not one to work well under pressure, but I work well if I have a goal to reach. Word Wars drove my fingers to the bone...and I don't think I won any of them. However, I was able to reach above and beyond my monthly goal (30,000) and the final count on July 31st at almost midnight was 39,904. Yeah I know, I could have bumped it up to 40,000...but guys, my brain was DEAD.
No only did I reach my goal, but I almost completed "The Princess & I"! I only had three chapter left to write, and that included the epilogue! Talk about progress!
All that to say, I was so happy to do Camp NaNo during July, and hope to join in again in October after my sister is safely married. ;) Knowing how summer + wedding preparations = very little time to write, I'm keeping my goals to a minimum and mostly focusing on editing this month.
Which brings me to a HUGE ANNOUNCEMENT!!!!!
My dear, faithful blog followers...
*drum roll*
I HAVE COMPLETED WRITING THE LONGEST BOOK I'VE EVER WRITTEN IN MY LIFE:
"The Princess & I"!!!!!!!!!!!!!!!!!!!!!!!
Yeah, I know, it's a bit of an overdose of exclamation marks. BUT I REFUSE TO APOLOGIZE!
(this will change inevitably after it's gone through the trials of editing):
People, I cannot believe it's DONE!! I finished it last night at 9:13 (pm). That's right folks, I actually got it done and myself to bed ON TIME. Double points, right?? :P
That said, I now have both "Alice & Alyssa" & "The Princess & I" to edit this month. It's a lot to swallow in one month, but I'm going to DO THIS.
Also, if any of you are interested in being alpha/beta-readers, please comment below or contact me in the handy dandy "My Contact" page and I will get a copy of "The Princess & I" to you asap.
And finally, before I let you all go back to your normal lives after giving you this heart attack with all the CAPS, here's an excerpt taken from the very end of the story. Tell me how you like it!!:
With a contented sigh, I sank into the warm bed after changing into my nightgown. I let my sore muscles relax and my body melt into the comforting softness of the mattress beneath me. My old life had been a wonderful thing, but my new one was also wonderful...if in different ways.
As I drifted off to sleep, I heard Princess Christine singing Greensleeves to little baby Megan, and I smiled serenely. Here was where God had put me. Here was where I belonged. Just like Christine. Even though she had hated the idea of ruling the kingdom while her father was away at war, she was able to realize that this was where she was needed. We both belonged where God intended us to be.
The princess and I.