Awesome alliteration, no? That like never happens to me, so I'm going to enjoy the moment...
Ok, moment over. Now onto the reason I wrote this post.
A random thought surfaced in my mind a couple days ago and I decided to put it into action. A rare occurrence indeed since I usually forget my random thoughts a few moments after I have them. And it's a good thing for you that they do! Believe me on that one...
However, this one was so fun, I didn't forget it. I made it into a blog post instead for your enjoyment (hopefully).
I'm going to give you some of my pet peeves. And then you're going to tell me how much you agree with me. Got it?? ;)
Here they are...in no particular order except that this was how they came into my mind and therefore how I wrote them down:
1. Stereo-types. Or, more specifically, people who put other people in stereotypical boxes. God created each of us differently. Each is unique in his/her own way. Even people with the EXACT same personality still don't have everything in common. Trust me on that one. I speak from experience. :)
Like big family stereo-types. As one example.
As another example, you know those people who think PKs should be perfect? Newflash!: We're not. I will say no more.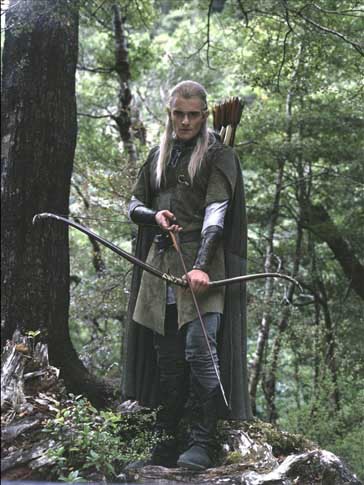 Legolas from "Lord of the Rings"
2. Characters in movies that never run out of arrows or bullets.
This elf had about ten arrows when he began this war...I'm being generous there...and by the end he's killed almost fifty orcs? With more arrows left in his quiver??
Then there's those cowboys with magical guns that never run out of bullets. He's shot twenty-three bullets now...I've been counting...and he's still going strong. Will he EVER run out??
Yeah, there's a reason I prefer swordfights. But even then...
Scene from Disney's "Robin Hood"
3. Sword fights where practically everything is broken...or turned over if it can't get broken. Seriously, it's like they're TRYING to break/cut/knock over all the things in the room they're fighting. There goes the candle...and the table gets knocked over...saw that one coming. Ah, yes...of course. All three vases and the two lamps go crashing to the floor. *rolls eyes*
4. Love triangles. WHY DO AUTHORS HAVE TO SPOIL PERFECTLY GOOD PLOTS WITH LOVE TRIANGLES????? I tell you what...my books are never going to have love triangles in them!!
5. Perfect characters. *cough, cough* theElsieDinsmoorseries *cough, cough* When someone's worst sin is not going to church ONE Sunday...and only because they were being forced against their will to not go...they should not be written about. My personal opinion is that characters should be written about so that we, meaning the readers, can learn from their mistakes. We can't if they don't make any. Character's should be a good representation of real people. And ALL people make mistakes. But they can also learn and apply.
6. When Bible verses are taken out of context. This irritates me to no end. And I'm usually a pretty easy-going person. But when people take God's word out of context and try to make it mean something other than what it was meant to mean...that gets me mad. I could go on and on about this, but I will refrain myself. ;)
7. "White lies". People, there is NO such thing as a "white lie". All lies are bad. There are times, I believe, when being too straight-forward and blunt is not advisable to say the least. The truth should be spoken in love.
8. Women super heroes. Be honest, there are NO good women super heroes. They just can't hold a candle to the guy super heroes. Sorry ladies, but it's true. Besides which, they're usually immodest. Another pet peeve of mine that will not be mentioned in this post because I could go on and on about it...like forever.
Women super heroes were really only created to appease feminists. Which brings me to my next pet peeve...
9. Feminists. Yes, I believe women should be feminine...don't get me wrong. Women should act, dress, and look like the ladies God created them to be...which is partially why feminists make no sense to me.
They get jobs instead of staying home with their kids (if they even have any), they push their agenda by forcing movies to make characters for women villains, women super heroes, single moms, women spies, and women soldiers...and then on top of all that, they claim the right to kill their own babies. Why?
Well, the only answer I could come up with was that we live in a fallen world and that people are sinners by nature. That's the sad fact.
I just realized I put feminists into a stereo-typical box. *groans and does a face-palm*
Ok, so there are probably some feminists out there that are great people. Maybe even some Christian ones...though that sounds like an oxymoron.
Ahem.
10. Auto-correct. So sometimes this function is actually helpful. But other times...grrr. Either it fixes words you don't want fixed, or it doesn't fix words you DO want fixed! (Like 'fir' instead of 'for' and 'us' instead of 'is'.)
I'm sure EVERYONE has dealt with this one at some point during their blogging. Especially those of you who post or comment on other's posts with wireless electronic devices. You know who you are... B-)
This is my opinion on all of the above subjects. ;)
Explanation: This picture was taken while dissecting a frog for Biology. My brother, ever the selfie expert, took the picture. (Actually, he doesn't really take selfies. I was joking about that.)
What did you think?
Should I do another Pet Peeve Post?
(I've got LOT'S more pet peeves up my sleeves...hey look, that even kind of rhymed!)
Do you want to make your own Pet Peeve Post? (You know you do...) If you do I'll pay your post a visit and comment. That's a promise!
Which pet peeve(s) do you share in common with me?